After 17 years in enforcement/legal as an executive with Oakley, Inc., I decided to launch a unique and much needed investigation/security consultant company named VARANGIANS. I am of Norwegian descent and in my historical search to find admirable qualities in a group of people, I uncovered a determined army of Vikings known for their defense and assistance. The Varangians were reputable guardsmen protecting business ventures in their empire.
With 30 years of world-wide experience in Intellectual Property (IP) enforcement, product diversion, casino and hotel security, retail loss prevention and executive protection, now is the time to make this pivotal move. My global contacts include top government officials of foreign countries, attorneys, law enforcement agents, investigators and informants with whom I have built a strong network that is unmatched in my field. My company will utilize these resources to get your job done.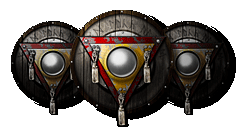 VARANGIANS is a change from typical consulting companies in that I will find the right person to do the job expected and supervise the project myself. If I cannot do the work, I will provide you with a trusted referral. I believe that titles and initials listed after a name is not enough to qualify someone as an expert in this profession. Only those professionals demonstrating impressive results have proven themselves worthy of the title, "expert in their field".
Each client will benefit further as I will pay our providers from my business account upfront, then manage all service fees until the job is completed. This will leave the client with one simple payment to VARANGIANS. My network of expert consultants, like the committed Varangians and myself, will strive to make a positive difference in your corporation by operating with high standards and unwavering commitment.

I am known for quickly increasing employee morale, getting seemingly impossible cases solved, and establishing new departments from ground zero. As a leader in my field, I have been asked to present at numerous institutes and to government agencies around the world.
I have decided to create a company that does not tolerate poor performance and weak work ethics. Excuses of defeat will not be an option. In the spirit of the Varangians, my company promises to return to the traditional value of hard work without over-pricing. One Viking saying goes. Honor, Hard Work and Reputation mean more than life itself.. The VARANGIANS will stand behind these words.